Sales Highlights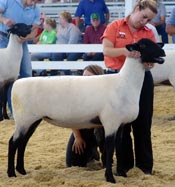 We thank Dutch Country Farms of Iowa for selecting our first-place yearling ewe, and our popular junior ram and ewe lambs at the 2009 Iowa State Fair Iowa Hawkeye Sale.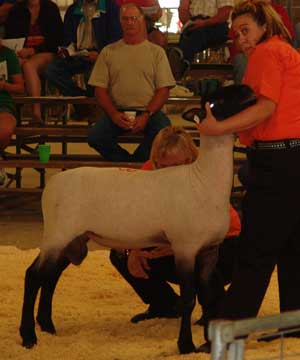 Thanks to Cal Klarenbeck of Iowa for purchasing this stylish ram lamb, a son of "Ty" at the Center of the Nation NSIP Sale in Spencer, Iowa, August 1 in 2009. Our ram lambs were popular consignments selling from $1,800 each. Thanks to all who bid and bought our complete, correct, consistent purebred Suffolk consignments. Contact us about sheep for sale privately off the farm.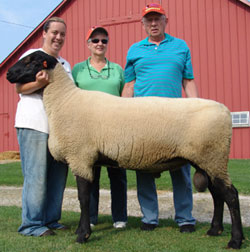 Thanks to Bob and Ann Borawski of Leeds, Massachusetts for purchasing "Next Year" a top "Flawless" son from us privately. Contact us now at 641-891-4381 for your quality Suffolk stud ram needs.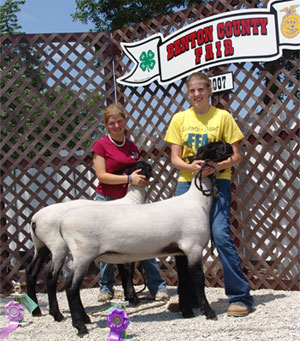 Congratulations to Hannah Hix of the Dysart-LaPorte City, Iowa Union FFA chapter. Hannah swept the competitive Benton County Fair with Krafka-bred Suffolks. Her Suffolks earned Supreme Champion and Reserve Breeding Ram honors over all breeds, and her Suffolk ewe was Reserve Supreme Champion overall. Hannah's Krafka-bred entries swept the Benton County Fair Suffolk Show earning Champion and Reserve honors in both the ram and ewe divisions.
Congratulations to Grein Suffolks of Algona and Wesley, Iowa, who swept the rate-of-gain and carcass show at the 2007 Kossuth County Fair. Four of the top 5 carcass lambs were raised by the Greins who purchased their flock from Krafka-bred Suffolks.

Congratulations to Peter Bailey of Otley, Iowa, whose lambs sired by Krafka-bred rams stood first and second in 2007 rate-of-gain in the highly-competitive Marion County (Iowa) fair, which typically attracts hundreds of market lamb entries.

Danny Grein's lamb claimed the championship with a loin eye of 3.59, backfat of .16, 54.8% boneless retail cuts, and an average daily gain of .80 finishing the test at 146 pounds. Grein lambs produced more than double the average daily gains and dollars of profit per day of most of their competition!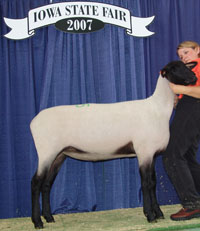 Ali Grein's lambs ranked third, fourth and fifth overall, with gains of up to .91 per day on the 88-day test, and included the largest-loined lamb at 3.71. Congratulations Danny and Ali Grein on your outstanding success with Krafka genetics.

This "Flawless" daughter earned the Senior Slick-Shorn championship ewe honors in the Hawkeye Sale, placed second overall in the Open Suffolk Show. Congratulations to Kucera & Sons on her purchase.



Second-high-selling Suffolk yearling ram, ewe lamb and ram lamb, 2007 Center of the Nation NSIP Sale, Spencer, Iowa

Click here to link to 2007 Center of the Nation NSIP Sale Highlights.
High-selling Suffolk ram lamb, 2006 Center of the Nation NSIP Sale, Spencer, Iowa

High-selling Suffolk yearling ewe, 2006 Center of the Nation NSIP Sale, Spencer, Iowa

High-selling Suffolk ewe lamb, 2006 Iowa Hawkeye Sale, Des Moines, Iowa

Five "Flawless" daughters sold at the Iowa Hawkeye Sale, averaging $760

Another record-breaking year for new AND repeat customers

Again sold out on 2006 ram lambs offered privately off the farm

Congratulations to Brodie Johnson of Kalona, Iowa on his Grand Champion Purebred Ewe at the 2007 Washington County (Iowa) Fair with purchased from the Krafka family.

Krafka-bred ewe lambs swept the Suffolk show at the 2007 Tama County (Iowa) Fair. Congratulations to Ryan Snider and Wyatt Kucera whose lambs stood one, two and three. Ryan Snider's ewe lamb went on to earn reserve champion breeding ewe honors overall, and he earned junior showmanship honors, too. We salute these fine young 4-H'ers and all the young exhibitors who've excelled with Suffolks bred in our flocks.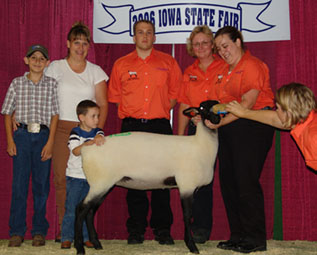 Thanks to Kucera and Sons for purchasing our stylish triplet $1,300 ewe lamb at the Iowa Hawkeye Sale sired by "Flawless" and a select group of females and a ram sired by "Speedo".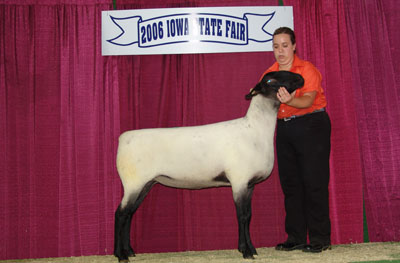 This stylish, long-bodied yearling "Flawless" daughter sold for $700 to Kucera and Sons at the 2006 Iowa Hawkeye Sale in Des Moines. Thank you for your support of our breeding program and good luck with your new flock based on "Flawless" and "Speedo" offspring.


© Rich Krafka Family Suffolks & Krafka Harkema Suffolks. All rights reserved.

This site designed and maintained by the